Dr. Nadeem Jeddy MDS , FIAOMP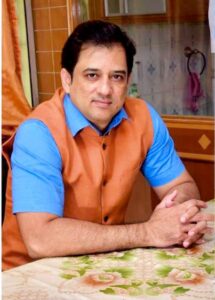 1st January '23
It is indeed a humbling moment for me to take up the post of secretary which would not have been possible without the guidance of senior fraternity members and blessings from almighty. With entering the second term I would like to welcome newly elected office bearers and look forward in creating new milestones in the upcoming year with wholesome support.
On general association matters we have successfully conducted INDIA CAN Torch programme throughout the year with great reception across the country which implies cancer screening of the economical deprived sections. The proposal to increase the staff requirement in undergraduate institutes has been put forth to the Dental Council of India with earnest appeal. As decided 25 th February has been declared as National Oral Pathologist's day in remembrance of Dr HM Dholakia sir's Birthday. It was celebrated with great enthusiasm and included programmes with undergraduate and postgraduate academic events and will be henceforth renowned nationwide. It is a matter of immense joy to inform you all that INROAD- Indian National Registry of Oral and Associated Diseases and is readily organized. I invite you all of being a part of the national movement. A presentation on our goals, vision and requirements on behalf of the association along with past president Dr Sushmita Saxena was presented at D9 Conclave, Chennai to the DCI President. The amendments were done in the byelaws and have been successfully updated and released in the website. The Zonal Continuing Dental Education programs in the form of series of 21 webinars was conducted and appreciated largely. The IAOMP National poster presentation meet and 19th IAOMP National 3D Virtual PG convention conducted by GSL was a proud accomplishment. The National Oral Pathology UG summit held by SRM, Chennai was equally spectacular  .The IAOMP National conference of Dehradun received overwhelming support and encouraging outcome. An important milestone with new name on the PAN Card from IAOP to IAOMP was also successfully accomplished. A successful channelization of the finances has also been initiated. Our contribution in World Dental Conference, National Conference of Forensic Odontology, Kurnool and OOO National Conference, Salem was enthusiastic.
I wish each and every one to contribute in the best possible way and thank every member for the unconditional support extended to me. I wish you all a very Happy New Year!
******************************************************************
Dr. Nadeem Jeddy MDS , FIAOMP
Professor & Head
Dr. M.G.R. Educational and Research Institute , Chennai
HON , Secretary(IAOMP)